Shahrukh admits Aamir as 'Bollywood's Badshah'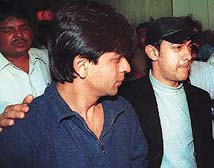 Bollywood
superstar Shah Rukh Khan is now involved in a jousting with Superstar Aamir Khan. Responding to a recent swipe at him by Aamir Khan, he said on Thursday he was happy to be called "No. 2" of Indian cinema.

Aamir had recently, reportedly, said he himself was the numero uno of Bollywood and Shah Rukh came second to him. Shahrukh said "Aamir is a dear friend and if he has said that I am the No. 2 actor, it is a great compliment to me". He also said "We have great regard for each other. He is 100 per cent number one."

"We are completely opposite. The only similarity is that we are both Khans" Shahrukh also said.

What about Aamir Khan's reaction? Talking to the reporters on yesterday he said "Well what can I say. Shah Rukh always likes to be in the second position". While asking him what he'll ask Shahrukh if he gets a chance to interview him, Aamir replied "That's a tricky question. I would ask Shah Rukh how does it feel to be second after Aamir?"

However Shahrukh said "Aamir said that in sweetness and fun. There is nothing to read more into it".