Sarkar Raj- an outstanding movie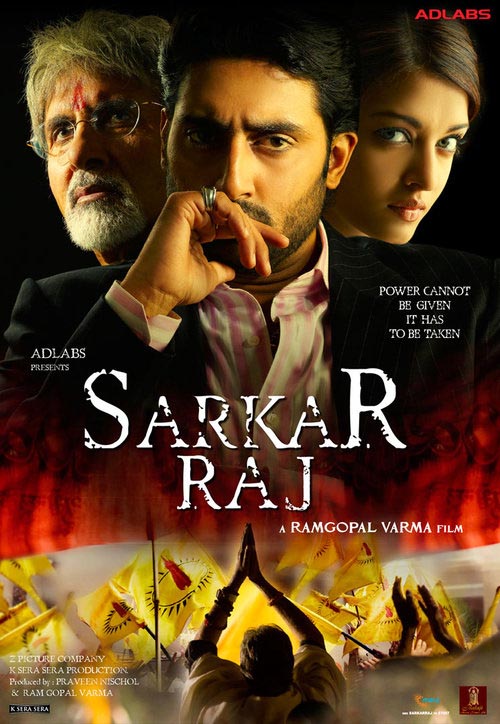 Sarkar Raj, the much awaited movie of Director Ram Gopal Varma, after the disaster of 'Aag' has been released on 6th June 2008. But 'Sarkar Raj' will never make you dissatisfied! In one word it's a nice creation of director Ram Gopal Varma. Anybody could think that 'Shiva' and 'Satya' are his greatest creation. But after watching 'Sarkar Raj' it'll be quite difficult to say which one is his greatest creation. This is an outstanding movie from all aspects, having a strong storyline which can be expected to get the leading position in Box Office!!
Few great scenes of 'Sarkar Raj'
:
*Ash's first meeting with the Bachchans to explain the power project;* Govind Namdev trying to bribe Abhishek; * The Bachchans' visit to Dilip Prabhawalkar's residence; * The Bachchans' discussion over Kay Kay [who was shot dead by Abhishek in the prequel]; * The turning point in the film [not to be disclosed]; * The penultimate reels when the real culprit stands exposed. It hits you like a ton of bricks.
Let's discuss about the individual performances. Amitabh Bachchan, expectedly, comes up with a marvelous performance. He's as ferocious as a wounded tiger in the finale and takes the film to great heights.
Abhishek Bachchan is also very good. His persona, style and look are just amazing!! But still if any rank will be given to him and his father, father will be little bit ahead of his son. The last few minutes Amitabh Bachchan has seized all the attraction towards him. What a marvelous performance!!
Now it's the time for Aishwarya. The corporate look fits her well. Nice acting!
The film is now running everywhere and we need to wait for few more days to know what the output is coming from Box Office collection. After all audiences are the real judges!!
Source: http://www.glamsham.com/
http://entertainment.in.msn.com/
http://entertainment.timesonline.co.uk/
http://bihartimes.com/newscinema/2008/June/sarkar_raj.jpg
http://www.moviewalah.com/
http://specials.rediff.com/